Discover more from Episodic Medium
Reviewing television one episode at a time like it's not going out of style.
Over 6,000 subscribers
Month-to-Month: Episodic Medium's Fall Schedule
Our annual subscription drive brings discounts for new yearly subscribers and Classics coverage stretch goals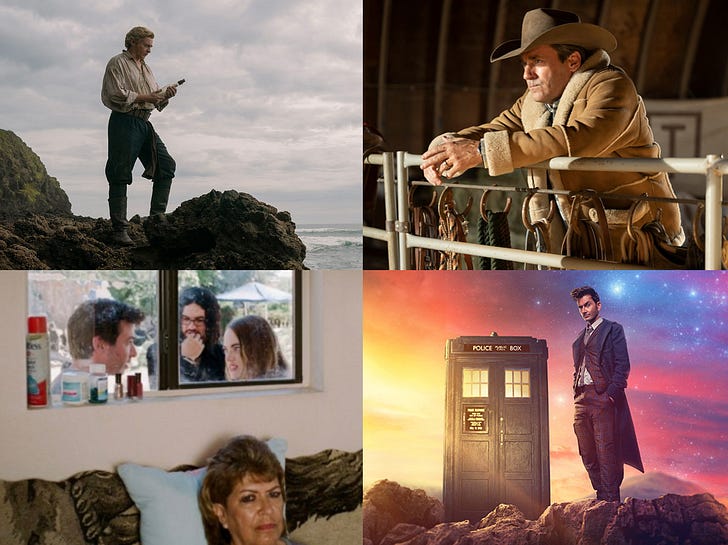 Last year, I wrote a newsletter about how cable channels and streaming services are increasingly opaque about their release schedules, with shows difficult to pin down in terms of when to expect them to debut. I discussed a range of issues that created this problem, including COVID production delays, but failed to anticipate the potential impact that two parallel strikes would have on this existing challenge a year later.
Actors and writers' necessary action has created a difficult situation for us here at Episodic Medium. Last August, we ran our most successful promotion on yearly subscriptions, based on a fall schedule covering House of the Dragon, Rings of Power, Andor, Abbott Elementary, and more. The support from our new paid subscribers allowed us to bring in new contributors, and continue our growth into the spring.
But now, with those subscriptions set to renew, our fall schedule is…very different. None of the aforementioned shows are back, either due to the strike or the ambitious nature of their productions disrupting the idea of "yearly" scheduling on any type of calendar. Of the shows we covered last fall, only two—Survivor and Rick and Morty—are returning, and while there are shows from channels like HBO and Max that were scheduled for fall that we'd likely cover, trade reporting has suggested the SAG-AFTRA strike in particular has conglomerates questioning whether they should hold out until an agreement is reached so that the big stars they spend money on can promote them.
Because last August/September marked the true "launch" of the current version of the site, with a larger stable of freelance contributors and an ambitious coverage schedule, this transitional moment is crucial to our business—new and renewing yearly subscriptions give us the flexibility to make this site the best it can be. My intention is to keep offering discounted first-year subscriptions during this window, which is why new yearly subscribers can get 20% off their first year until 9/30.
However, this year that means asking you to invest in a deeply uncertain media environment where we don't yet know when the strikes will resolve, how they will impact the next 12 months of television, and whether the resulting coverage patterns will be worth your $40 a year (or $50 a year for renewing subscribers).
So, it's important for me to be clear on what you're investing in, both in terms of our coverage plans and our business model. On the latter point, I want to be clear that the revenue generated by Episodic Medium is always redistributed among our contributors—I don't take a salary for running and editing the site, and pay myself the same rate per review that I pay out to our contributors. Whenever our projected revenue on Substack has gone up, I've been able to be more aggressive in the number of shows we're covering, and bring on new contributors without fear of running at a deficit. While a profit-driven business, any and all growth for Episodic Medium is—once Substack and Stripe take their cut—directly supporting the writers whose work you're receiving in your inboxes, which is the kind of subscription I'm personally most likely to invest in.
And so this crucial fall window is my opportunity to convince you that those writers are worth your support, and that watching the coming months of TV along with them is worth every penny. Accordingly, here's as clear a picture of our Fall Schedule at Episodic Medium that I can give you, as well as how your support can unlock additional "classic" coverage in the weeks ahead.
Continuing Coverage
Just as a reminder, our coverage of The Afterparty and What We Do In The Shadows extends into the first week of September, while our reviews of Only Murders in the Building and Ahsoka will continue through the beginning of October.
Returning Coverage
Survivor (September 27)
Some of us contend there's always something compelling about following a season of CBS' stalwart reality hit, but this fall we see what happens when the show's editors are afforded a 90-minute strike-friendly timeslot that could well become a permanent change if all goes to plan. I'll be back on the beat, with the caveat that extra long episodes and a Wednesday night class means reviews will come later in the evening.
Rick and Morty (October 15)
It's the first season with co-creator Justin Roiland removed from his role as the voice of both title characters, which will likely be a big topic of conversation as the show returns to the ongoing mythology after largely setting it aside in season six. Zack Handlen will continue his coverage, for however many episodes come before the mid-season hiatus.
The MCU - Loki and Echo (October/November)
Secret Invasion may have been a bust, but Marvel's TV slate gets more interesting this fall with their first second season and their first spinoff project based on an existing series. Whether either series can help unwrite the narrative that the MCU is faltering remains to be seen, but there'll be lots to discuss in Caroline Siede's continued MCU coverage regardless.
For All Mankind (November 10)
Apple still hasn't formally announced a release date for their alternate space history's journey into the 2000s, but with recent news regarding Jodi Balfour's Ellen Wilson no longer being a series regular making the trades, it seems probable that we're heading for a premiere sometime this fall. That this wasn't paired with news that Danny Stevens died on the way to his home planet is unsettling, but I'll be covering the show again anyway.
New Coverage
Our Flag Means Death (October )
The folks at HBO Max were seemingly caught by surprise by how audiences connected with their queer pirate comedy, given how long it took them to renew it, but a second season was filmed, and has finally been dated for a vague "October" in a recent Vanity Fair profile. Wherever it lands, Les Chappell will make his Episodic Medium debut and cover the show two-episodes a week, presuming Max sticks with that release pattern. He's also writing about the first season right now.
The Gilded Age (October 29)
After debuting as a rare Monday drama release despite its stacked cast, The Gilded Age has been upgraded to a prime Sunday slot as it returns for its second season, as Carrie Coon, Christine Baranski, and more broadway stars than you know what to do with dig back into Julian Fellowes' take on wealth and power on this side of the Atlantic. Donna Bowman will be charting the trials and tribulations of new and old wealth later this fall.
Doctor Who (November/December)
Regenerations are always momentous for Doctor Who, and often draw new viewers who are wondering if this is the right moment to jump into the T.A.R.D.I.S. and dive deeper into this cross-generational franchise. But with Russell T. Davies back at the helm, and David Tennant returning for three 60th Anniversary specials ahead of Ncuti Gatwa's introduction as the 15th Doctor in this year's holiday special, this fall also brings the show's past into focus, just in time for a high-profile move to Disney+ outside of the U.K. It's a lot to take in, and I'm thrilled that Caroline Siede will be our guide for the transitional specials and then in 2024 when the series resumes in earnest.
A Murder at the End of the World (November 14)
Originally set to debut on FX (by way of Hulu) this week, the latest from The OA co-creators Brit Marling and Zal Batmanglij has been pushed back to November. And while their pedigree promises to bring its own topics of conversation, this is especially true of a whodunnit with Emma Corrin as a "Gen Z sleuth" alongside Harris Dickinson and Clive Owen. After stepping in to cover the final episodes of The Walking Dead last year, Alex McLevy returns as a full contributor to cover the show's 7 episodes.
Fargo: Season 5 (November 21)
The thing about making Fargo into an anthology drama is that even if you drifted away from past seasons, and remain skeptical about Noah Hawley's capacity to "franchise" the original film, there's always the chance that this is the combination of story and high-profile actors—Jon Hamm! Juno Temple!—that fully clicks into place. After writing about some of those past seasons elsewhere, Noel Murray takes a journey to North Dakota (by way of Calgary) that will carry into the new year.
The Curse (TBD)
Nathan Fielder's The Rehearsal drove a lot of conversation last year, and his new A24 collaboration with Benny Safdie promises to do the same, this time with star Emma Stone in tow for a cross-section of domestic dramedy, supernatural happenings, and the behind-the-scenes of a gentrifying HGTV show. The ten-episode series debuts at the New York Film Festival, and will debut on Showtime soon after. When it gets a premiere date, we'll announce coverage plans.
Episodic Discussions
As our discussion in the comments of my newsletter about not covering Reservation Dogs made clear, there are shows that we're not covering—for any myriad of reasons—that subscribers are nonetheless watching, and are often looking for a space to discuss them. Now, technically speaking, Substack has provided such a space with the "Chat" function, but that's admittedly a siloed experience, and is sometimes hard to consume as you would a traditional comment section. And while I try to do discussion posts most weekends, those aren't terribly consistent, and aren't always able to highlight and invite discussion around all shows.
So as a trial run over the course of the next month, we're going to formalize our discussions around certain shows in two ways. First, in the Chat space, I'm going to start discussion threads for episodes of certain shows airing in September, and then I'll collate comments from those discussions and post a Discussion Thread to all paid subscribers, which can then spawn further conversation in the comments (or encourage you to head into the chat yourself). 
I'll keep tinkering with ways to allow the community to discuss shows that don't fit into our coverage plans, but this is what I can offer as an additional value to paid subscribers for now.
Introducing Episodic Classics
Almost 16 years ago, in November 2007, A.V. Club editor Keith Phipps announced "TV Club Classic" in the midst of the last WGA strike as a way to keep the newly established TV Club afloat amidst the shortened broadcast season. And while I've considered it a long-term goal of the site to invest in similar "classic" coverage, and have seen some of your comments to this effect, it only seems fitting that the current strikes and the disruption in the schedule usher in our own take: Episodic Classics.
However, while there will definitely be some holes in the schedule in the coming months (and into the spring), this is a different era: it's Peak TV, and streaming services have large backlogs of content, meaning that it's not like TV is "stopping." And given that I think this form of criticism still has the most value as a companion to the new TV we're watching, I'm still going to be prioritizing new and returning series in terms of our budget. But I want to get the ball rolling with the understanding that as the site continues to grow, this type of coverage is a way for us to fill holes in the schedule and continue growing our community. 
And while there were lots of great pitches from our contributors, I knew immediately that the best way to inaugurate Episodic Classics was with LaToya Ferguson's coverage of the first season of The O.C. starting on September 7. As the show celebrates its 20th anniversary, and friend of the newsletter Alan Sepinwall releases a new book documenting the show and its legacy, there's no better time to revisit Fox's seminal 2000s teen drama, and no one better to do so than LaToya. Over 10 weeks—this, like most Classics coverage, will cover multiple episodes per review—she'll dive into all your favorite topics (Rooney! Oliver!) and hopefully you'll come and watch alongside her.
As I noted, though, I received lots of great pitches, and I'd love to fill our weekly schedule with as many shows as it can withstand. However, given that subscriber churn is a reality of this business and I don't want to run a deficit in the future, I'm making the short-term expansion of Episodic Classics into a stretch goal for our Fall Subscription Drive. For every 35 new yearly subscribers between now and September 15, we'll add a new show (and a new contributor) to our Classics coverage between now and February. Three of those shows have been slotted into the fall schedule, while additional series would be slotted in the new year. You'll find the first three slots in our calendars below.
UPDATE: After an initial 35 new subscribers, we've added Episodic Classics coverage of Enlightened from Dennis Perkins.
Last year, we had 144 people become yearly subscribers at this period, and so if we beat that number we'll be adding three new Episodic Classics to the schedule. But I know that campaign—and another discount back in May—may have exhausted many of our most-likely subscribers, and so I can't count on history repeating itself. But I'm hopeful that this additional incentive might help push you to take the plunge and make a $40 investment in Episodic Medium and our contributors.
My Last Pitch
A year ago, I was selling a year of something that didn't exist yet—while we had expanded our coverage throughout the summer, Episodic Medium was still a nascent enterprise, and I had no idea whether it was sustainable to be covering so many shows and supporting so many writers.
Now, though, I know what I'm selling. In the next year, your $40 will get you exclusive access to 250+ episodic television reviews, as well as a place in a community that is regularly discussing television across newsletters and discussion threads. I know that you might not be watching everything we cover, and that you might be watching things we're not, and so I understand that for some people subscribing and unsubscribing as your viewing habits shift makes more sense. But I also want to be clear that the best way to support the work we're doing is making an investment, allowing us to expand and grow more confidently in the year ahead.
Before we get to the calendars (subject to change based on the whims of the channels/streamers involved), a note for existing monthly subscribers: if you want to shift to yearly during this deal, you will not be able to claim the discounted rate. However, if you email me at episodicmedium at gmail dot com after paying the $50, I'll add three months to your subscription, which will equal out to the same monthly rate. You can also email me there if you have any other questions, and I've also opened the comments on just this post to all subscribers, in case you want to ask questions here.
Thanks as always for being a part of Episodic Medium, either as free or paid subscribers, and I'll be checking back in on our progress toward our stretch goals over the next couple of weeks.
Myles McNutt
Editor, Episodic Medium

Any show without a firm release date has been placed in the schedule as a guess, other than The Curse, because it doesn't have a logo yet.